WE AT THE PLATZL ARE… UNIQUE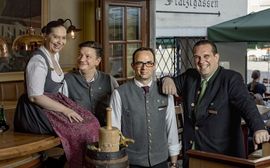 In short, we are real and typically Munich. But that is nowhere near all that has been said: guests also love coming here to the PLATZL HOTEL for its unique style.
Read below how our colleagues from the AYINGER AM PLATZL perceive these unique qualities:
Why is the PLATZL unique?
BECAUSE the building has its own personality that has been developed over decades.
BECAUSE the architecture, furnishings, and decor reflect this special connection of tradition and modernity.
BECAUSE guests coming here enjoy exclusive products that you can get nowhere else (for example our 'Spatzl' at the PLATZL KARREE).
BECAUSE after over 60 years, the PLATZL is managed and influenced by the Inselkammer family of Munich.
BECAUSE you do not feel like you are at a hotel ­– you feel like you are at home. This pertains to the warm service but also to the comfort and cozy atmosphere.
BECAUSE at the PLATZL, an all-around family atmosphere prevails, which you cannot experience anywhere else in Munich.
BECAUSE we love coming to work due to the team spirit and close-knit cohesion that we have. The guests notice that of course!
BECAUSE the cuisine at the PLATZL offers the exact culinary highlight for any taste.
BECAUSE we at the PLATZL never stop. We always come up with new specialties and promotions.
What does the Platzl uniquely do for you?
If you are also unique and you would like to become part of the Platzl family, we look forward to your application. You can find all relevant information here.