AT THE PLATZL WE ARE… FROM MUNICH!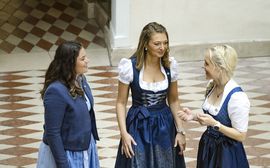 This time we went around the hotel and asked our colleagues about another of the five basic values:
WHY IS THE PLATZL TYPICALLY MUNICH?
Here are some of the best answers:
BECAUSE we welcome and serve our guests with traditional costume designed by Ludwig Beck.
BECAUSE the original Platzl character is retained in the furnishings - starting with the loden and felt materials in the entrance hall and ending with the carpets and beer cosmetics in the rooms.
BECAUSE the Platzl has been a figurehead of Munich old town for decades.
BECAUSE the Platzl is now being managed by the third generation of the well-known Munich family Inselkammer.
BECAUSE in the Platzl restaurants - especially at Wirtshaus Ayingers – we serve Bavarian cuisine according to traditional recipes and made with local ingredients.
BECAUSE despite modernisation and refurbishing we have never given up our original character.
BECAUSE the Platzl has a chequered history and proved itself in the Bavarian regional capital, in spite of adversities.
BECAUSE at the Platzl we practice the Munich motto "world city with a heart". Open, relaxed and authentic. The guests and customers also notice this during our annual summer festival for example.
BECAUSE both – Munich originals and guests from all over the world – feel at home with us, on every visit.
BECAUSE the Platzl has already characterised more than a hundred years of cultural life of the city with the famous Platzl stage.
BECAUSE we always welcome our guests with a warm "Grüß Gott".
What makes the Platzl typically MUNICH for you?