Octoberfest 2022 - Finally it's back!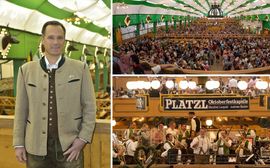 There is little that Peter Inselkammer, owner of the "Armbrustschützenzelt" (Crossbowmen's Beer Tent) and spokesman of the Octoberfest proprietors, is more passionate about than experiencing the Octoberfest up close and personal. But can the engine driving the Octoberfest simply be started up again? What's new this year? And what really gives this ardent organizer of the beer fest goosebumps? It's hard to think of anyone better to talk to about the Octoberfest, so we are delighted that he has answered all our questions about this year's festival.
Mr Inselkammer, thank you for taking the time to talk to us! The Octoberfest is finally taking place again this year after a compulsory two-year break. We're sure you really missed it! How have you and the other publicans tided yourselves over during this long dry spell? Might the break actually have been a good thing, giving you time to generate some new ideas?
I know it's important to pause and reflect once in a while, but I find there is plenty of time to do that during the usual break between the annual festivals. I felt that two years were far too long and, to be honest, it's difficult for me to find anything good about that time. During the two years when the festival was cancelled, boredom went hand in hand with phases of disillusionment. Preparations start as early as February; they are a great deal of work and we pour our heart and soul into them. However, both of these last two years came with a long period of uncertainty: Is it happening or not? I would almost say it was hope that got us through this dry spell, as that was always present in equal measure until the cancellation – or, in this case, permission – was announced.
At the same time, we kept ourselves busy by thinking about how we could still make ends meet if it did come to a cancellation. As you can imagine, considerable costs were incurred despite the cancellations, with no income to make up for them. What's more, the proprietors were not able to make up for the losses through their regular catering outlets, as most of these were closed, too. Dealing with all that was certainly a creative challenge for all concerned.
At least we were able to bring the WirtshausWiesn beer festival into being at relatively short notice in the late summer of 2020, when restrictions were relaxed for a few months. It was a great project that kept us very busy and was certainly something to be proud of.
So this year's it's back to the "real" Octoberfest! After such a long break, are you still fully engaged in the subject matter or have you become somewhat rusty?
We're definitely still engaged in the subject matter – we never stopped thinking about the Octoberfest during those two years. I can't deny that we may have become a little bit rusty, though –some of the processes might become more complicated because they are no longer routine for us. There are also bound to be a few staff changes, e.g. our partners may have some new points of contact or have made changes to their teams. We'll find out what effect this will have once we start setting up.
However, the greatest challenge at the moment is the global raw materials crisis. We can no longer expect to simply order and take delivery of certain basic components without any issues. This means rethinking some things and hoping that everything still works out.
There have been many social changes during the two years without the Octoberfest. Does the beer fest also have to reinvent itself or are the proprietors simply going to carry on exactly where they left off two years ago?
I believe the Octoberfest is always reinventing itself, to a certain extent. There are small changes every year; we learn from them and continually try to improve. An Octoberfest beer tent is nothing more than a commercial enterprise – and in business there is the saying "If you don't go with the times, in time you will have to go!"
Currently, the topic of sustainability is huge, and this is where I see the Octoberfest as a pioneer in some respects. There were already some climate-neutral tents back in 2019, the City of Munich provided 100% green electricity, and, comparatively little waste was produced considering the size and numbers of people at the event. When it comes to food, all caterers now pay great attention to origins and transport distances; there has also been an increase in vegetarian or vegan options on the menus.
What specific innovations will there be in the Armbrustschützenzelt?
For one thing, we will be using a new electronic billing system for the first time. Unlike in a restaurant, it isn't possible to gradually introduce and properly test modernisations of this kind at the Octoberfest. Instead, we just have to hope that everything works as intended. But don't worry: our old processes are still on hand just in case and could be used as part of a "hybrid" system as a last resort.
In addition to this, we have digitalised our reservation system. It is now possible to make a reservation online, and even to pay for the reserved table via PayPal. This is a huge step!
Not all of these changes are a result of the pandemic. They have been in the planning for a long time, or, in some cases, were necessary due to tax authority requirements. Despite this, the break provided a good opportunity to implement the changes.
That means even the traditional Armbrustschützenzelt is becoming more digital. Could you imagine ever having a hybrid Octoberfest with virtual elements?
In 2020 there was actually an attempt to market a digital version of the Octoberfest. I wasn't involved and I don't know the exact numbers, but there was apparently no demand for it. I can't really imagine a hybrid form of the Octoberfest. What makes the festival special is its atmosphere, and coming together with friends, or even complete strangers, to have a good time. If you want the genuine Octoberfest feeling, you have to go to a beer tent!
Where I could see a digital format working is for the fairground attractions. As far as I know, there are already virtual rollercoasters that are remarkably realistic when seen through 3D glasses. This is an area that is developing very fast and could appear at more and more fairs in the future.
In 2019, 6.3 million people visited the Octoberfest. The record is 7 million. Experience shows that, on average, each visitor drinks somewhat more than one litre of beer. What kind of numbers and level of beer consumption are the proprietors anticipating this year?
We are actually anticipating similar numbers to 2019. Ever since we have known for sure that the Octoberfest is taking place, there has been a significant increase in inquiries. There is definitely plenty of interest!
Do you think there will be a geographical shift in the visitor profile? As in more local and fewer international visitors? And, if so, will that change the ways in which, for example, the entertainment programme is devised?
I believe that local demand has always been the main driving force. International visitors maybe come for a day or two, whereas people from Munich definitely come more often. But we can certainly assume that there will be a much smaller number of international visitors this year, since flying has become more expensive and some travel restrictions are still in place. Maybe this will also result in more visitors from Germany, Austria and Switzerland returning to the Octoberfest, particularly the citizens of Munich. People have a lot of time to make up for and are keen to do so, as can be seen from our current spring festival.
This won't affect the entertainment programme, as the Octoberfest has never been adapted to international visitors' expectations.
How are your long-term staff doing after the long break? Are they going to be working for you again or have you had to rebuild the team?
We certainly haven't needed to rebuild the team! We made sure that we asked our staff in good time whether they wanted to join us again, and most of them will be back. And there are always new members of staff every year anyway!
What you need to remember is that, as a beer tent at the Octoberfest, we are nothing more than an employer and, of course, we have to ensure our appeal as an employer! Even though we only work together for two and a half weeks per year, the staff develop a bond with our business and their colleagues. Two weeks ago, we held a staff party for the people who worked for us in 2019. We normally do this following each Octoberfest, but this time we wanted to capture the mood in advance. And we noticed that the sense of community immediately returned. That's worth its weight in gold!
One last question: do you have a personal Octoberfest highlight?
I have two. The first one is the festive parade of the Wiesn landlords and breweries as they process onto the festival grounds at the start of the event. There's no atmosphere like it. The organizers and staff are filled with anticipation and excitement because so much work has led up to this moment. Visitors secure the most coveted places early in the morning, but have to make do with water for the several hours leading up to the tapping of the first keg. The tapping of the keg is always a very special, emotional moment, even though I've been doing this for many years.
The second highlight for me is the public concert of the Wiesn landlords in front of the Bavaria statute, which ends with the Bavarian anthem. I can't remember it ever taking place in bad weather. The white-blue sky is the perfect setting and quite an extraordinary number of people gather there – a tradition that sets the mood, and an occasion I would not want to miss.
Another traditional event, especially for anyone interested in Bavarian customs, is the traditional costume and hunters' parade on the first Sunday of the Octoberfest. A huge number of historical costume and rifle associations from throughout Bavaria take part. Always wonderful to watch.
Then I've got an insider's tip from proprietor to visitor: Sunday midday is absolutely the best time to visit the Octoberfest. The atmosphere is completely different from the boozy tone of a Saturday evening. I like to call it the "Munich ambience". Afterwards, you can have a go on the Teufelsrad – I often go there and it is so much fun! Finish off with a ride on the big wheel and see the whole of the Octoberfest grounds from above.
I could probably keep talking for another hour. There's so much going on at the Octoberfest, and everyone should go at least once in their lives. It's about the whole experience!
Thank you for talking to us, Mr Inselkammer. All the best for a successful Octoberfest season!
Thank you! We are looking forward to seeing lots of your readers there!
As one of the best located Oktoberfest hotels, we've got some attractive special offers for your stay during the event in Munich!
You can reserve a table in our Armbrustschützenzelt via the following link.
If you're visiting Munich during the Octoberfest or for Octoberfest-themed events, we've got some attractive special offers for you! Our events team is always happy to answer inquiries about events at the Platzl Hotels via email.