Excellent Beer Culture at Ayinger am Platzl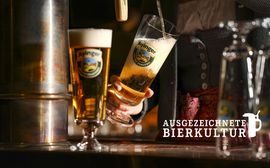 After receiving the third Diamond for their "Ausgezeichnete Bayerische Küche" ("Excellent Bavarian Cuisine"), the colleagues at the WIRTSHAUS AYINGER AM PLATZL are celebrating again! The Bavarian restaurant with a family-run brewery was honored with the award "Ausgezeichnete Bierkultur" ("Excellent Beer Culture").

What is "Ausgezeichnete Bierkultur"?
"Ausgezeichnete Bierkultur" is an additional certification that builds on the award "Ausgezeichnete Bayerische Küche". As you might know, the Bavarian purity law from the year 1516 is the world's oldest beer principle that holds true to this day. Any respectable Bavarian restaurant will honor this tradition, but some do it more than others. To be able to distinguish the excellent from the good ones, the Bavarian Association of Hotels and Restaurants, in cooperation with the classification specialists Bayern Tourist, created this additional award.

Which Criteria are Reviewed?
To be considered a Bavarian restaurant with an excellent beer culture, you must offer a wide range of Bavarian beers. There needs to be a "beer card" displayed on the tables that informs guests about the beer type, brand, original gravity, taste and appearance of the respective beers. Its goal is to offer maximum transparency and to boost the beer drinkers' confidence in the restaurant. But it is not only the "beer card" that has all the relevant information about the products. The service staff must have the necessary beer expertise as well. Guests should always feel comfortable asking their waitresses and waiters beer related questions, and in certified restaurants they can expect a well-informed answer.

Why this Award is Important
Patrick Melinz has been the Restaurant Manager of the Wirtshaus AYINGER AM PLATZL for almost 3 years. He and his team were particularly pleased to receive the award, as they have recently been actively working to make the WIRTSHAUS AM PLATZL a popular destination for Bavarian beer connoisseurs. About ten different beer specialties from the in-house brewery AYINGER are regulars on the drink's menu. In addition, there are special promotions, some of which are seasonal, as well as a beer brandy made especially for the pub. "At the AYINGER Wirtshaus, we see ourselves as ambassadors for one of the few breweries in Bavaria that still runs independently and privately. Of course, we wanted this award!", says Melinz.
We are proud of our colleagues at the AYINGER AM PLATZL and hope for many beer-savvy guests in the future!