The Platzl is REAL!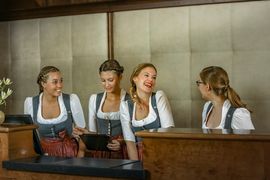 Our highest priority at the Platzl Hotel is to make every guest happy, during every visit. The high quality of the hotel and the unmistakeable Platzl character are the biggest constants in this. In order for this to work all the time, everyone involved at the Platzl – whether the manager or housekeeper, porter or reception manager, waiter or barman – have subscribed to certain basic values and qualities, that are very important for us.
One of the values for the Platzl Hotel and its gastronomy is: REAL.
But what does this value mean for us, our work, our guests & partners and our interaction in the hotel?
Here you can find the best answers to the question "Why is the Platzl `real´?"
BECAUSE in spite of modernisations and investments, the tradition and original character of the hotel has been retained.
BECAUSE we really enjoy fulfilling a guest's every wish – even if we have to rearrange tables, adjust times or change rooms.
BECAUSE we treat every guest equally and don't change for anyone.
BECAUSE every employee remains true to themselves, and is allowed to show their personality. No-one is a number with us!
BECAUSE we speak openly and honestly both amongst ourselves and with our guests.
BECAUSE we keep our word and we only make promises if we can keep them.
BECAUSE we prepare a great deal ourselves by hand – from the syrups and lemonades in the bar to the Spätzle and sauces in the kitchen.
BECAUSE it builds trust and we also feel better ourselves, if we tell the truth and act sincerely.
BECAUSE we know exactly who our suppliers are, and the guests can read on the menu where the products come from.
BECAUSE guests can rely on the freshness and high quality of our dishes and drinks, starting with breakfast.
BECAUSE we would like to build up and maintain sustainable, interpersonal relationships with colleagues, superiors and guests.
BECAUSE we only let a guest leave reception with a smile.
BECAUSE we really like each other in the team, and like spending time together even outside of work.
You can experience for yourself, during every stay, that these words are really followed by actions. We look forward to your next visit to the <link internal-link internen link im aktuellen>PLATZL HOTEL.