THE PERFECT CHRISTMAS GOOSE TO A RECIPE FROM CHEF CHRISTOPH JOH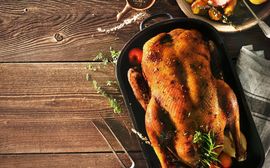 At Restaurant Pfistermühle you get spoiled the whole year round with the excellent Bavarian cuisine of Chef Christoph John and a very hearty service. Selected suppliers from the region, exquisite Franconia wine, a charming atmosphere and the lovingly restored historical mill from 1579 make a divine location for a superb culinary experience.
Giving a special Christmas treat Christoph John, who has worked for personalities like Alfons Schuhbeck and Michael Käfer, shares his recipe for the perfect Christmas goose exclusively with all friends of the Platzl Hotel.
Ingredients:
1 x goose (preferably fresh farmhouse goose)
2 x russets
2 x oranges
2 x onions
200 grams carrot
200 grams celeriac
2 tablespoons tomato puree
200 ml apple juice
1 x bunch mugwort
80 cm roasting twine
Salt
Preparation:
(1) Preparing the goose
Cut off wing bones at large joint
Remove giblets and fat at edge of cavity
Cut off neck
Cut off parson's nose (important as this is where the sebaceous glands are located which impart an unpleasant taste)
Clean the inside of the goose with a damp cloth
Salt inside of goose well
(2) The stuffing
Cut apples, oranges and peeled onions into 2 cm cubes (including apple/orange peel and pips)
Cut mugwort coarsely with scissors
Mix everything well and stuff into goose
Now truss goose with roasting twine as follows:
Place goose on its breast, wrap twine twice around wing bones, i.e. twice left, twice right, then turn goose over and pull twine forward over inside of drumsticks, wrap twine twice around ends of drumsticks and make a knot so as to close the cavity.
My tip:
Prepare the goose this way the day before or even 2 days before so that the mugwort flavours and all other flavourings can begin their work.
(3) Roasting
Salt goose well on outside
Pre-heat fan-assisted oven to 160°C
Fill deep oven tray with water to a depth of approx. 1 cm
Place goose in oven tray, breast down
Allow the goose to roast in this position for 30 minutes
Then place goose for 45 minutes on right drumstick side
Now place goose for 45 minutes on left drumstick side
Then place goose for 45 minutes on back and baste with roasting juices every 10 minutes
My Tip:
When basting the goose allow roasting juices to pass through a fine sieve so no residues are left on the skin.
Now increase oven temperature to 180°C to crisp the skin of the goose well. Important: do not baste further!
(4) The gravy
Cut carrot and celeriac into 2 cm cubes.
Chop wing bones and neck into 2 cm pieces
Allow goose fat to melt in a cook pot on medium heat
Add chopped bones and fry on strong heat until brown
Add vegetables and rest of stuffing and allow to lightly brown
Add tomato puree and fry at medium heat, stirring frequently
Add apple juice, reduce by about half and then add 2 litres of water, allowing the liquid to simmer on low heat
When goose is cooked, remove fat from the roasting juices and add remaining juices to gravy
Bone the goose and add carcass to gravy pot, allowing it to give off its flavour for a short time
Strain the gravy and reduce to approx. 500 ml
Add a little corn starch to bind the gravy and season with salt to taste
Folker Müller and the Pfistermühlen Team with Chef Christoph John wish you a Merry Christmas!
This content is subject to copyright. Hersteller AlexRaths.