Our sous-chef of the Restaurant Pfistermühle: Tino Nawrocki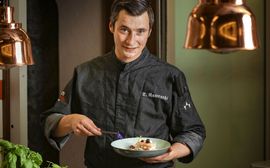 Mr Nawrocki, many thanks for taking the time to answer our questions. How long have you been at the Platzl Hotel and where did you work before?
I started this new period of my life and the new challenge on January 8th 2016, here in the heart of Munich, at the Platzl Hotel.
Before that I have been in Hamburg for 6 years, including 4 years at Karl-Heinz Hauser on the Süllberg, in the Kempinski Hotel Atlantic and in Le Meridien by Starwood. That has been an exciting time. I don't want to miss out the place I did my training, "Die Alte Friesenstube" in Westerland, taught me the love and passion for cooking.
But Munich, and particularly the Restaurant Pfistermühle, has really grown close to my heart in the brief time I have been here, and I feel really at home here.
What tasks do you carry out as sous-chef of the Restaurant Pfistermühle? Can you guide our readers through a "normal" working day for you?
That gets a bit more extensive.
I usually come in around 11 a.m. and first I check the lists (Mise en Place lists) and what each station in the kitchen urgently requires. In the meantime, all the suppliers arrive; then, together with the early shift, all the products are examined for freshness, completeness and appearance. In between, it feels like the telephone is always ringing :-)
12 a.m. Lunch service begins, and the stations should be well prepared by then.
2 p.m. My team comes and prepares full steam ahead for the evening service. From then, I spend 2 to 3 hours in the office. Trawl through e-mails, write menus, call suppliers, write service plans, write recipes and all sorts of things that arise on the day. That is sometimes more than one thinks.
5:30 p.m. My team and I are in a short power briefing (reservation numbers, events for the next few days, what is going well and where we still need to increase).
6 p.m. The evening service starts - our main business hours, mostly thrilling and exciting. Every task must be done by then at the latest, and the kitchen is cleaned thoroughly again. From this point in time, 4 hours of 100 % focus is required! Everyone is concentrated and in flow. We only talk about the most important things during that time. But there should also be a little bit of fun every now and then :-)
Finally, done…
Afterwards the boys give me their order, which I put in. Before we go home, I get the feedback about the evening from Daniel Bruns, our Restaurant Manager: luckily mostly positive. Last but not least, I tell my team what still needs to be done and I say goodbye. That's the end of my working day: I can relax and look forward to the next day with new challenges and creative ideas. I just love it!
The Platzl cuisine is traditionally known for its regional and seasonal focus. At the moment for example, there are refined dishes with asparagus at the Restaurant Pfistermühle. Which culinary season do you personally prefer? Why?
I must admit, I love spring more than anything. You really become vibrant and full of energy again. Everything is blooming all around you, and you see and smell how nature is waking up to new life. In the kitchen, we have an almost unlimited selection of herbs, berries, salads, rhubarbs and of course asparagus. For me, there is nothing better than asparagus with a good Hollandaise sauce and a Viennese escalope – just perfect!
What I still find fascinating is the "Viktualienmarkt" just around the corner, where we regularly buy extra food, if something is missing or we have run out of something. At that time of the year, a chef can find everything that his heart desires. Fantastic!
What can the guests of the Restaurant Pfistermühle look forward to in the next few months? Are there special campaigns, events or menu ideas on the program?
It is always worth to visit the Restaurant Pfistermühle, whether for lunch with our sensational express menu (4 courses served on a typical chopping board), or in the evening with an exceptional wine, finest dishes and a comfortable ambiance.
There is always something going on here! On May 24th for example we are cooking a 6-course menu, which is served and presented by the wine shop "Gebrüder Volkhardt" with matching wines from various vineyards. Or the menu with the natural cheese dairy "Naturkäserei Tegernseerland" on June 8th. It never gets boring and it remains, as we are currently working on the new concept for our Restaurant Pfistermühle which will carry some fabulous changes with it.
A hypothetical question to finish: What would you be today, if you had not become a chef?
That is a tricky question! I have decided to become a chef when I was 14 years old. Why? I will tell you that another time, or when being a guest at the Restaurant ;-) If I had not become a chef, I would probably play football, but not as well as I cook.