"Kreszenz⁴ – Der Saal": A Place for Conviviality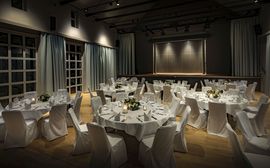 The name tells the story!
A question that we often receive: "What does Kreszenz4 mean?" The explanation is actually quite simple. We were inspired to name our hall by the grandmother of the Platzl founders. Together with her husband Franz, Maria Kreszenz Inselkammer took on a big risk in the 1950s and reconstructed the dilapidated restaurant building on the Platzl. So Maria Kreszenz is the first mother of the modern PLATZL HOTELs and our success story would never have been written without her. The "Superscripted 4" in the name highlights the diversity of the new hall: whether it is meetings, celebrations, dancing, or eating – this is the place for it!
How many people does the Kreszenz4 have room for?
Due to various possible uses for the Kreszenz4, this question cannot be answered in just one sentence. On the one hand, it depends on the event's occasion and on the other, of course, on the seating. For example, for a carnival party, you can make full use of the room's 184 m². For talks or plays with seating, it holds around 150 guests. With tables, like in a wedding or a meeting, we have room for around 60 to 90 people. You can find a detailed overview on the Kreszenz⁴'s capacity on our sites under Meetings and Celebrations.
Traditional with the atmosphere, modern with the technology
Similar to MARIAS PLATZL and the inn, AYINGER IN DER AU, we have also oriented the design towards traditional values. This of course does not mean that we are using yesterday's technology. The latest generation of technology is entirely suitable for meetings, conferences, and private ceremonies.
Having said this, what is especially near and dear to our hearts in the complete renovation of the parish hall is the cabaret: young entertainers, comedians, magicians, and many more will get a stage at downtown Munich's best venue.