Easter in Munich – our suggestions for a great holiday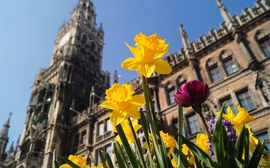 In two weeks' time, Munich will offer many opportunities to have an enjoyable time as the warmer weather begins. The holiday weekend is packed with great events which local folks and visitors to the city can enjoy in equal measure. Here at this issue of our Platzl magazine we tell you what you should not miss during the Easter holidays in Munich.
The Olympic Park and the "Markt der Sinne"
We would like to start by presenting two events with great tradition on the timetable of Easter events in Munich. We are talking about the Easter Festival in the Olympic Park and the Markt der Sinne on the Prater Island, which will once again be impressing visitors with a creative mix of art, crafts and lifestyle. The Olympic Park awaits your visit with great games, thrilling stories and tasty food. The funfair rides and shows under the Olympic tower also offer plenty of fun for visitors both young and old.
Easter at the Visitors' Park
A slightly alternative Easter event is taking place at Munich Airport on March 28th. At the Visitor Park the whole family is welcome to take part in an exciting Easter egg hunt. Be patient and keep your eyes open, as the tasty treats are hidden all over the park. Children who are interested in the airport are invited to join the free Kids Airport Tour.
Easter fun at the zoo
You can also have a great time in Munich over Easter on March 27th and 28th on a visit to Hellabrunn Zoo. A colorful world of discovery is awaiting your visit. For the little ones, face painting and a craft workshop are on the menu, and the cute animals in the petting zoo are looking forward to being pampered by the children. With a little luck you might even get to see some chicks hatching. What could be better over Easter?
Easter in Munich with the Platzl
Well, we have just given you some good reasons to spend your Easter weekend in Munich. If you feel like booking a last minute break, then make sure you check out our attractive Easter Offer with two nights in the deluxe category and an awesome Easter dinner in the restaurant Pfistermühle. Book a single room for 344.00 Euros, and two nights in a double room for 458.00 Euros. We are looking forward to seeing you!