Bavarian 'Schafkopf' in the Armbrustschützenzelt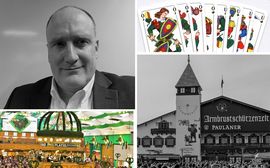 Hi Stefan, thank you for your time! The Schafkopf group (registered association) is once again this year overseeing the Schafkopf table in the Armbrustschützenzelt (one of the most traditional Oktoberfest tents)
Since 2018 we have been offering this table in the Armbrustschützenzelt and it was well received in its very first year. And this year too, over a period of five days, there will be reserved tables in the "Rehbock" stall and extra ones for "Schafkopfers". As of now, the Schafkopf table can be booked through www.armbrustschuetzenzelt.de/reservierung. As soon as a round is complete (four players), off we go – you can play cards to your heart's content from 10 am to 4 pm.
Can anyone join in?
Anyone who is already proficient in the game can join in. Many players come in groups of four and look forward to a proper game of Schafkopf (with its regular rounds) at Oktoberfest. However, you can register alone or just stop by. In this case, those of us at the Schafkopf group will ensure that the individual players are able to join in. And upon request, we are also available anytime with tips and hints or for clarification of rules issues.
What is special about Schafkopf in the Armbrustschützenzelt?
Through the special atmosphere in the Armbrustschützenzelt, two themes are ideally connected with Oktoberfest and Schafkopf: they both stand for tradition, customs, and the Bavarian lifestyle
Additionally, this year there is also the Schafkopf tournament on October 3rd. Are there any requirements to join in?
The tournament on the 3rd of October in the Armbrustschützenzelt will be tons of fun for sure! The prices are quite reasonable, and participation promises to be an unforgettable experience for everyone! As with the regular tables there is no special requirement. At the beginning of August there will be a registration log in on the Schafkopf group website (www.schafkopfschule.de) through which you can secure one of the coveted starting positions.
Generally speaking, what accounts for the appeal of Schafkopf?
Schafkopf is a very multifaceted and interesting game that is fun on every level. With increasing experience, more and more dimensions are revealed to the dedicated player, whereby the game gets more facets and becomes more nuanced.
Is Schafkopf a game of chance or is skill more important?
Of course a good hand is advantageous and in the short-term card luck and the state (distribution of cards for the other three players) play a big role. The more long term you consider the whole thing, the more relative the factor of luck becomes. Thus, Schafkopf is not specifically a game of chance but also can be considered a game of skill.
Is there still a younger generation in Schafkopf or is it threatened with extinction nowadays?
In the last few years, Schafkopf has again received a considerable influx of new players, especially by young people. Recently there was additional tailwinds from political circles and teacher associations. And of course the Armbrustschützenzelt offering contributes to Schafkopf again being very present in the public eye.
By the way, our training courses for beginners and intermediate players are always booked up. A further indication that you don't have to worry about Schafkopf! That pleases us because dissemination and promotion of the game is the essential purpose of our Schafkopf group.
Would you say that a real Bavarian has to be able to play Schafkopf?
Of course! A life as a Bavarian entirely without Schafkopf is really quite unimaginable. Schafkopf belongs to Bavaria just as much as beer, dirndls, & lederhosen and of course Oktoberfest!