Award "Excellent Bavarian Cuisine" for Ayinger am Platzl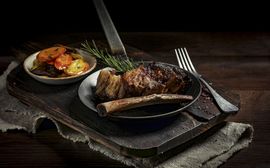 Once again, our WIRTSHAUS AYINGER AM PLATZL has received the award "Ausgezeichnete Bayerische Küche" ("Excellent Bavarian Cuisine")
What is "Ausgezeichnete Bayerische Küche"?
The classification was created by the Bavarian Association of Hotels and Restaurants, the Bavarian State Ministry of Food, Agriculture and Forestry, and the classification specialist Bayern Tourist. It aims at promoting an authentic Bavarian culinary experience with a focus on seasonal and regional products. So far, in all of Bavaria only around 120 restaurants have been awarded either one, two or three diamonds. So, it is far from easy to get an outstanding result.
Service, Cuisine, Ambience & Hygiene - Everything is Reviewed
Of course, the food and drinks are given the strictest criteria to fulfil in the evaluation of the Bavarian restaurants, meaning the "product quality": What does it taste like, where does the product come from, how are the plates served for example? All of this makes up around 60% of the overall rating.
There are also many secondary, yet important criteria. All the restaurants must fulfill high standards in terms of storage, hygiene, and sanitary area. Furthermore, the ambience in the guest areas as well as the service quality should reflect an authentic Bavarian character.
3 Diamonds for AYINGER AM PLATZL
After receiving two Diamonds in the previous years, the AYINGER AM PLATZL was awarded three Diamonds this year. Three Diamonds stand for top-notch regional, seasonal and original cuisine, and it is the highest allocation. "Our chefs consistently strive to combine tradition with creativity and they put their heart and soul into the dishes. The fact that this passion is honored not only by our guests but also by critics makes us all very happy," says culinary director of the PLATZL businesses, Alexander Raddatz-Bianco.
Authentic Bavarian Cuisine With a Modern Touch
Hearty, substantial, rich – these are some key attributes of the Bavarian cuisine, which we also adhere to in our "Wirtshäuser". However, the kitchen team around Holger Lange, head chef of the AYINGER AM PLATZL and AYINGER IN DER AU, proves that Bavarian dishes do not have to be heavy on the stomach, and that a certain finesse is still possible. Take a look at the menu feel the inspiration.

Menu