Art and Culture in Munich – Winter Highlights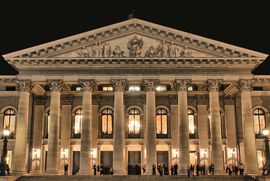 Munich is Germany's capital of culture. Friends of the fine arts get their money's worth in the metropolis on the river Isar especially in fall: to end the season museums present top-notch exhibitions, a variety-packed repertoire is offered on Munichs stages and literary events boom during the golden season as well.
The best exhibitions
Probably the greatest aspect of culture in Munich is the impressive museum landscape. People are surging from the banks of the Isar and the English Garden into the galleries. One exhibition we can highly recommend is the Kadinsky/Klee exhibition at Lehnbachhaus to all lovers of abstract art, where works by the two revolutionary masters can still be admired until January. <link http: www.muenchen.de int en events art.html _blank external link in new>Here you find a summary of special exhibitions for this year's Kulturherbst.
Music and Theater in Munich
The theater season also celebrated its kick-off at the start of October, enriching "cultural Munich" once again. Whether it's at the Olympic Hall, at the Deutsches Theater or at the Residenz, you can now enjoy magnificent productions again. One highlight of the season is definitely the Canadian Cirque du Soleil – an impressive mixture of drama and acrobatics. By contrast, to anyone who prefers the more classical entertainment we would like to recommend the Munich State Opera, which is just a few minutes walk away from Platzl Hotel. This year's program includes Verdi's "Rigoletto" and Mozart's "The Magic Flute".
Your opera experience with the Platzl Hotel
We have put together an <link http: www.platzl.de _blank external-link-new-window internal link in current>exclusive package for you to get you in the mood for your evening at the opera: first of all you indulge in our "Opera platter" in the Pfistermühle's vaulted cellar and then you are captivated by the amazing arias. After the performance a bottle of Champagne is waiting for you in your room to round off the evening perfectly. That's why culture tastes so good in Munich!
The Platzl CULTURAL OFFER
To fit within the cultural end of the year in Munich, we have put together an <link http: www.platzl.de en offers-packages packages culture-package _blank external-link-new-window externen link in neuem>attractive offer for you. Spend two nights in the comfortable ambiance of the Platzl Hotel and enjoy a special "Kulturschmankerl" in the Restaurant Pfistermühle. Afterwards we will provide you with tickets to Munich's Künstlerhaus where you will be wowed by the exhibitions and concerts.
Picture Source: Opera house of Munich at night, <link https: www.flickr.com photos kuchenbaecker in photolist-bkbx56-e2c2tx-o2rijw-ayvr5t-zxmudy-zuztup-zuqdwl-atbqkb-8gkzkx-nm1psn-oscr2f-omubzj-9fe6bg-zau57n-ohiamb-oxyiaj-ozy5wl-ozwao2-7mpqlq-6ripq5-yjwa55-grthpq-j1kepf-fkuurd-63tl4-5aohs3-8m4edi-pymzcg-9zwurf-9zg3ka-8kjrlc-64qzr-pfzq7t-inzfk8-5ccwnh-59ty8e-5ahwsi-5aakf6-5aezee-5ajbcd-5aamet-8mitsk-8mivib-8mn3nf-8mn5n5-8mn611-8mixq4-8mn4ku _blank external-link-new-window external link new>Reiner Kuchenbäcker/flickr.com