A NEW MAN FOR MARIA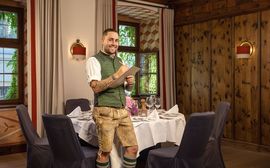 She will cast a spell on you: our "Maria" – Marias Platzl Hotel – with 34 charming rooms, plus the AYINGER IN DER AU tavern and the KREZENZ4 event location. For Leopold Strauss, our new operations manager, it was love at first sight.
Friday afternoon and business is brisk in the Ayinger in der Au tavern. A large number of patrons are enjoying the first rays of spring sunshine in the beautiful beer garden. In the adjacent hall, a bridal couple is decorating the tables for their wedding the following day. And in the heart of all the action we find Leopold Strauss. The new operations manager is talking to some newly-arrived hotel guests. He is dressed in stylish traditional costume, the perfect outfit for "Traditional Costume Friday". Our heads are spinning somewhat with all the activity here in Marias Platzl. However, the man at the centre of it all is calmness itself. Who is he? We wanted to find out more.
Just 31 years young and already the operations manager at Marias Platzl. How did that come about?
After completing my economics degree, I sent a speculative application to the Platzl Hotels. Right from the start I was impressed by the openness with which the business here is run: we were able to speak very freely about what sort of job might be a good fit for me. Shortly after that, I started working as shift leader for breakfast and banqueting staff, and was quickly able to take on more responsibility and work my way up to head of department after deputising the position. Not long afterwards, I took over the whole events department, including Marias Platzl. However, it still took quite a bit of work to reach the position of operations manager. The company supported me in developing to where I am now. They placed their trust in me and gave me the opportunity to grow here. I was ready to accept that challenge and now I can say: it was the best thing that has happened to me so far in my career!
What do you love most about your role, and how do you see yourself in your position at Marias Platzl?
First let me say what I love about the Platzl establishments in general. Each person here is unmistakable and is free to express their personality at work. We find the right position for everyone and the individual employees are judged on their own merits – and that goes for their professional development, too. There is a great deal of honesty. I also consider it a special honour to work for the Inselkammer family. They are so approachable and sincere that anyone who works for them can consider themselves lucky.
At the heart of Marias Platzl, of course, are my colleagues. They are the ones that ensure every guest's experience is special. After all, our motto is: "Whatever you can do makes us even better!" For my part, I always try to set a good example. It is important to me to motivate my colleagues to give their very best, and I make sure I demonstrate the behaviour I expect from others, especially towards our guests.
What is it that you like so much about "Maria"? Has she captivated you with her special charm?
Yes, of course she has, right from the start – it was love at first sight. Marias Platzl has an irresistible charm all of its own. It is located in the middle of the city yet is absolutely untypical for the city centre with the beer garden and the little stream flowing past the door. This part of town feels much more like a village – very family-oriented and neighbourly.
We are a small boutique hotel in Munich with the warm-hearted service that is typical of Bavaria. Our contemporary, playful elegance gives us a particular look and feel that is very distinct from the "big" Platzl Hotel; however, we always stay true to our roots. Our traditional tavern also incorporates the modern world on many levels. You can see that in our staff, too – for example, it's completely normal for people with visible tattoos to work in food service here – I myself am probably the best example of that.
We get the impression that you feel completely at home when surrounded by people – would you agree?
Oh, yes, absolutely. That's what I like most about my new position. I really love interacting with our guests and meeting lots of new people. It's like being part of a big family. The sense of family at the Platzl Hotels is very important to me anyway, just like my own family is. Because, without that, I definitely wouldn't be where I am today – I enjoy the feeling that there are people supporting me. My mother also runs a restaurant in Munich. What's more, my fiancée comes from a family of restauranteurs, so restaurants are a familiar working environment for me alongside hotels.
By the way, I should mention that my fiancée, Isabelle, strongly encouraged me to take on the new challenge of operations manager. I don't know whether I would have taken this step without her. Sometimes you need someone else to give you a push, and then, all at once, everything comes together – after all, we're "only" human.
What is your daily routine like with "Maria"?
Above all, it's very varied. First thing in the morning, I start by doing my rounds. I check that everything is all right with my colleagues and greet our guests at breakfast. Then I review the previous day and plan the day ahead. The time spent in the office usually passes very quickly and I can be on hand in the tavern for the lunchtime service to support my colleagues in any way I can and be there for our guests. Afternoons are set aside for more paperwork and other appointments. The great thing is that no two days are the same. Sometimes I'm here at the weekend, too, or if we are hosting a big event.
How do you see your future? What is particularly important to you?
The most important thing is continuity. "Maria" only opened at the end of 2018, and after the forced two-year break it is now important to pick up where we left off. One good example of this is our pub music in Ayinger in der Au. Slowly but surely we can see that it is becoming established as word spreads and more people come along regularly.
Marias Platzl with its tavern and event location are brought to life through our hospitality and cordial service. Above all, I want to give my colleagues all the support they need to do exactly what they do best – be there for our guests.