With the "Pfisters" at home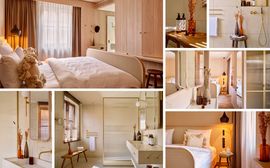 Our new premium room "Journeyman's Piece".
Bavarian shell limestone shines in all its beauty on ceilings and walls, high-quality wood paneling made of oak exudes natural warmth, the spacious bathroom enchants with marble interior and classic brass applications. Just a first impression and yet already an impressive preview of what awaits you in our PFISTERMÜHLE building from mid-2024, we present you with our new sample suite "Gesellenstück". In it, you can see and feel what is special about the Pfistermühle - its history, its class, its originality.
Prelude to 13 true masterpieces
We have revived the tried and tested for you in our new sample suite - in a contemporary way and equipped with the latest technology. The result is a room with many lovingly selected details that will embrace you with great warmth. Our 35 sqm "journeyman's piece" is just the prelude to a total of 13 masterful suites with the special feeling of being "at home with Pfisters". We entrusted the design of the atmospheric interior to the interior design experts at DREIMETA. The renowned design studio has already furnished our Pfistermühle, the Marias Platzl and our inn Ayinger in der Au in its distinctive way.
Like in former times, only even more beautiful
As in the guest room of the Pfistermühle, the wall paneling of our sample room is made of whitewashed solid oak. Their surface represents the historic flour-washed, typical Bavarian bakery and is reminiscent of the traditional baker's craft. A true tribute to Munich craftsmanship are the many loving details, such as coat hooks covered with chamois leather, forged nails, and a lampshade made of coarse linen fabric - a reference to a traditional linen bag for flour. The interior cabinet linings made of pressed hop blossoms tie in with the Aying private brewery, which has close ties to the Platzl family.
By the way, did you know that ...
... the Pfistermühle was actually once a mill on a stream? Originally located in the Old Court, which served as the ducal residence of the Wittelsbach dynasty from the 13th to the 15th century, the Hofpfisterei supplied the Wittelsbach dynasty with bread and flour. The mill, after burning down in 1578, was rebuilt on the site known today, on the other side of the Pfisterbach.
You can already experience our new premium room "Journeysman's Piece" up close and book it for your next stay! We are very much looking forward to your feedback!