WINTER TOLLWOOD – MUNICH'S WINTER CULTURAL FESTIVAL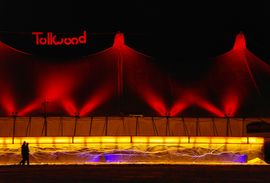 From 25 November, visitors from near and far will once more flock to Munich for the famous five-week long Tollwood Winter Festival. It will soon be time to browse, be amazed and feast! Come and experience the colourful excitement and lively entertainment plus a special Christmas market at the Theresienwiese, home to the Oktoberfest! At the "marketplace of ideas", international craft ideas are combined with culinary specialties from around the world!
Under the motto "LIVE!CREATURE", this year's Tollwood will feature a very particular atmosphere with a focus on animal welfare and a responsible approach to the environment. Brand new to the market this year will be the first purely vegetarian-vegan dining tent "EssZimmer". In addition to the great culinary delights offered at the bio-certified festival, there will also be a variety of warming drinks such as mulled wine, punch and hot coconuts.
Another long-time favourite and back for the seventh consecutive year is the "World Salon", a fascinating multimedia tent addressing important environmental and social issues. Politicians, scientists and artists will take the stage and describe their views.
The clear highlight of this year's Winter Tollwood, however, will be the "Limbo" variety show. Nine men and two women will create a stunning presentation with a mix of acrobatics, dance and music. In addition, incredible jugglers, a mask theatre and many other great performances await your visit.
The Platzl tip for all who like a party: the festival closes with the Tollwood New Year's Eve party, a fantastic end to the year! You can expect lots of special performances, an eclectic mix of live music and DJ sets on 5 areas plus a purely indulgent five-course meal.
We look forward to having you join us for a vibrant, international festive season in Munich!
<link http: www.tollwood.de en _blank>>> Entire Winter Tollwood programme
Picture Source: <link https: www.flickr.com photos fhgitarre in photolist-936wnd-937wbd-iaoxvr-93ahv1-937tih-938be6-937dkd-938uch-939oxv-93cmbj-9395wp-iapjo7 _blank>Tollwood: matze_ott / flickr.com