We present: Birnbaum's Fish Farm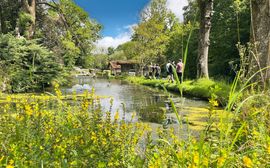 It is not overstated to say that a deep love for fishing runs through Nikolai Birnbaum's veins. This becomes clear within the first few minutes of our visit at his fish farm near Lake Ammersee. The man talks about fish farming almost poetically, highly focused he follows the movements in the ponds and enthusiastically he explains the small peculiarities of individual fish species. While some other breeders would use a landing net to fish out a dozen animals at once, Nikolai Birnbaum selects each specimen individually. Depending on the season, the type of fish or the expected time the fish is to be cooked, one has to breed, catch or slaughter differently, he explains. The Fish Whisperer follows these rules with almost scientific precision. Not many people today understand the fine details of fish farming anymore, certainly not laymen, but you can taste from the quality of the fish whether they have been followed. That's why some of Germany's best chefs swear allegiance to the Birnbaum fish farm in Epfenhausen. "Anyone who has had the pleasure of preparing a char from Mr. Birnbaum will never want to have another one in the kitchen again," raves PFISTERMÜHLEN head chef Tino Nawrocki.
In conversation with Nikolai Birnbaum
Mr. Birnbaum, Why do your fish taste so good?
A lot of experience and dedication I would say. It used to be very clear to my father, who started the farm about 60 years ago, that the welfare of the animals must be the focus of any cultivation practice. Only if the fish are doing well, the product will taste good in the end. He taught me this basic rule early on and we still apply it today. Unfortunately, I can't ask the fish how they are doing, but I hope we do a decent job. As for passion and dedication, that's probably in my genes. Even as a toddler, every puddle magically drew me in. By the way, I see strong parallels with my daughter Lea, who pulled tadpoles out of puddles as a child! Basically not much has changed, as she is currently doing her master trade certificate in fish farming and runs the farm with me here together :-).
That sounds like a very sustainable philosophy. How do you implement it in your farm specifically?
We work extremely extensively. This means the fish have plenty of space, and above all, significantly more time to grow than in conventional fish farms. What is nice about our natural ponds is that the fish in them live together with lots of other animals like frogs, newts or dragonflies. What also sets us apart from other fish farmers is the real spring water for our ponds, which even originates on our premises.
What fish species do you breed?
As we primarily have spring water ponds, we mainly breed salmonids. This includes brown and rainbow trout, char, lake trout, namaycush, golden trout and Danube salmon. To a lesser extent however, we also breed carp, pike, pikeperch and whiting.
Part of our philosophy at the Pfistermühle is to inspire guests with our cuisine: Guests should have the desire to cook regional, fresh and handmade, appealing dishes at home. Can private persons buy fresh fish from you? And if so, do you offer them gutted and ready to cook?
Yes, everyone can buy their fish directly from us in the farm shop. We offer fresh fish in all possible forms: as fish fillet, ready to cook, without head or whole.You can also buy many different fish treats from us: Smoked fish, roasted trout, pickled lake trout, Bismarck trout, sushi and a variety of salads. All produced by us of course.