'Trachten' shooting LUDWIG BECK at AYINGER IN DER AU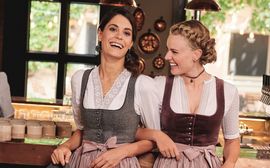 LUDWIG BECK - TRADITIONAL COSTUME IN MUNICH
One of the most renowned traditional clothing stores of the city is undoubtedly the traditional shopping center LUDWIG BECK with whom the Platzl has been working closely for a long time. The work of the "Heimatwerk by LUDWIG BECK" designers has always been characterized by authentic quality instead of the more generic alpine chic style. Professional traditional costume tailors work with high quality materials to create stylish, authentic leather trousers and dirndls.
TRADITIONAL PHOTO SHOOTING IN THE INN AYINGER IN DER AU
LUDWIG BECK always tries to present the traditional costume collections in an appealing way. In other words, the setting in which the pictures are shot should reflect the focal points of the collection - which this year includes linen, loden and filigree metal details. The perfect location was easily found: Just under a year ago, our new inn AYINGER IN DER AU was opened at Mariahilfplatz. The interior designers from Augsburg, DREIMETA, focused on traditional furnishings such as loden, linen and copper, which perfectly complements LUDWIG BECK's new traditional costumes.
As hoped, the photo shoot at the AYINGER IN DER AU was a complete success.
WIN WITH LUDWIG BECK
Do you like the new collection? Well, take your chance - with a bit of luck you might find it especially affordable. In collaboration with LUDWIG BECK, we are giving away two shopping vouchers worth 250 Euro for "The Store of the senses" at Marienplatz. Enter and take your chance.