The Platzl Reservation Team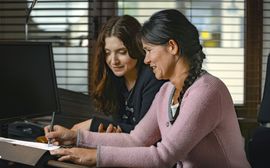 Currently there are three of you on the reservations team. Since when have you been working together in this particular configuration?
We have been working in this configuration only since 02/15/2019 as Anne is quite new to the team. But we all have known each other longer than that since Anne and Barbara completed their internships at the PLATZL HOTEL.
What do your daily tasks look like?
Just as the word "reservation" suggests. We reserve :)
At first that sounds simple, but it is a bit more complex. We work with various booking portals that need to be maintained on a daily basis. Everything is structured differently, and every booking is in some way customized. But most of the time it is fun when guests book directly with us by mail or by phone and we have personal contact. That is our favorite task!
What departments in the hotel do you collaborate with?
The three departments that we mainly collaborate with are Reception, Housekeeping and Accounting. The first of these (Reception) mainly works directly with reservations that we have entered and processed. Guests continue to give us their requests, but at the end of the day Reception and Housekeeping are the employees carrying it out.
All payments that we take and invoices that we print are forwarded to Accounting. Invoices that are not settled by the guest himself before or after the stay are tasks given to other colleagues.
Which personal traits are especially important when working in reservations?
Like in all service professions, nothing beats friendliness and a positive vibe (even on the phone). Although a lot of patience and attention is also required and with that, always a focus on the guest. In Reservations, even though we work on a team, we have full responsibility for bookings that we process or enter. In this way, everyone has their own area that is carefully maintained.
One of your tasks is to also forward special requests from reserved guests to the respective departments. What was up to this point the most bizarre requests that you have encountered at Platzl?
The booking of a helicopter landing pad would have been a small challenge. But because we did not have any more rooms available for the requested date, this request was not followed up on. In any case, it was unusual.
Much has changed at the Platzl in the last few years: renovations, new products, remodeling. Do you have the feeling that guests appreciate the positive developments?
Definitely – the long-time guests are especially impressed by the development and the progress that we have made the past few years. It is not just the rooms that were renovated: from the introduction of the conference rooms to the Platzl Karree and Josefa Bar and on up to our restaurants. Even us on the staff are always continuing to develop, which is why the service has gotten better and more competent. And now, since September 2018, we have managed the reservations for Maria's Platzl – there is definitely always something going on here.