The new MARIAS PLATZL in der Au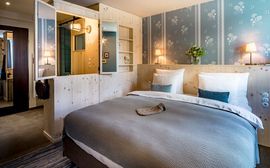 A love of hops and sense of home
This brings us to the motto of the little PLATZL: "A love of hops and a sense of home" describes the love of beer on the one hand - represented by AYINGER IN DER AU. On the other hand, guests at MARIAS PLATZL should feel "at home" thanks to the Munich hospitality. This is highlighted amongst other things by the color scheme - blue and white like the Bavarian state colors, but also the traditional materials like loden or leather. This is skilfully conceptually staged by the renowned Augsburg interior design firm DREIMETA, which was also responsible for the renovation of the PFISTERMÜHLE.
New possibilities for the Platzl and its guests
Thanks to the MARIAS PLATZL and the AYINGER IN DER AU, we are of course expanding the sphere of influence of the Platzl. Brand new possibilities are also arising for the neighborhood in der Au. Until now, there has been no inn there with a beer garden, which combines proximity to the city, high quality and real Bavarian flair. Hotel guests can also get to know an even more authentic Munich at the new location, while the area around Marienplatz and Stachus is more touristy.
The adjoining former Parish hall is also available for celebrations, but also conferences - combined with the inn and/or beer garden as you wish.
The first showroom is finished
"The doors will open at the end of October at the latest, in time for the "Kirchweihdult", promises Operations-Manager Christopher Becker-Vogt, who most recently acted as Director of F&B Operations at the INFINITY Hotel & Conference Resort Munich. "Until then, the preparations will be going full steam ahead."
A milestone was already reached at the start of July, when the first showrooms were completed. These give us a good impression of the three future room categories "Anna", "Gundi" and "Hermine": lots of wood, textiles, enamel, leather, attention to detail and a "soft blue" on the walls - the design experts DREIMETA once again did outstanding work.
We can hardly wait to welcome you to MARIAS PLATZL or AYINGER IN DER AU.