THE BEST WAYS TO EXPLORE MUNICH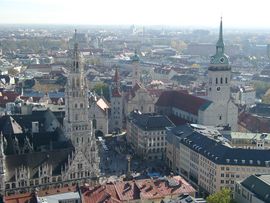 Munich is known for having a lot to offer. Culture, architecture, cuisine and sports – the possibilities are endless. But, what is the best way for you to explore it? Again, the choices are huge and diverse. The present the most beautiful ones below:
Themed city tours
Guides that follow a certain theme are extremely popular. The<link http: www.stadtvogel.de einzelpersonen.html _blank>Wei(s)se StadtvogelWhether cuisine, fashion, or theater, there is something for every taste.
Guided bike tours
Those who do not want to discover Munich by foot can easily get to know the cosmopolitan city with heart by bike. But, you do not have to do so without knowledgeable guides.
With <link http: www.mikesbiketours.com munich _blank>Mike Bike Tours you enjoy cycling tours while learning valuable information about the main city attractions.
Bus tours
Experience Munich from the sun deck of a bus.<link http: www.grayline.com things-to-do germany munich _blank>Gray Line (Autobus Oberbayern) offers many different daily tours that take you by the Bavarian state capital and beyond. With the Hop-on/Hop-off operation, you can get on and off the bus at any time. So you can truly admire the sights that interest you.
Rickshaw
Taking a rickshaw ride through Munich is a bit more extraordinary. From an unusual perspective, close to the asphalt, your personal tour guide and driver shows you the highlights and insider tips of the Isar metropolis. <link http: www.muenchen-rikscha.de unser-angebot-an-rikschafahrten stadtrundfahrten-sightseeing.html _blank>Rickshaw tours are offered in English, Spanish, Italian or Polish.
>> Furthermore, discover Munich with our <link http: www.platzl.de no_cache en packages sightseeing.html _blank>Sight-seeing-Package…
Picture Source: <link http: www.pixelio.de media _blank>Munich: Elke Hartmann / pixelio.de