MUNICH AIRPORT VISITOR PARK – ALL ABOUT MUNICH'S TERMINALS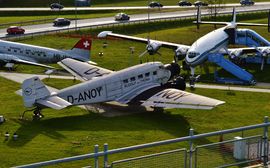 You can also explore historic aircraft and learn more about the airport at its interesting exhibition: a truly special experience for everyone!
You're sure to find this popular destination exciting, especially once you experience the wide range of attractions on display. After climbing 172 steps to the top of the mound, you will be rewarded with a remarkable view of the airport's two runways and its apron. For just € 1.00 admission, you can watch flight operations as long as you want. At the foot of the hill, three vintage aircraft are on display, waiting for you to explore them. The interiors of the Ju 52 and the Super Constellation can also be toured. You can also learn a lot of interesting information about the classic aircraft through films and sound recordings presented in the aircrafts' cabins. The Douglas DC-3 with a length of 19.65m is without question the most famous propeller aircraft of all time and thrills visitors to the park every day.
At the visitor centre, you can get some interesting insights into the world of aviation via the free exhibition. Electronic kiosks tell you about all the places that you can reach from Munich's airport, how aeroplanes are prepared for travel and how the two terminals are organised. Terminal 1 at Munich Airport has a capacity of about 25 million passengers and 21 gates. This terminal handles all flights not operated by Lufthansa or its partner airlines. Terminal 2 began operations in 2003 and has 24 gates and 75 aircraft parking spots.
"Tante Ju's Speisewerkstatt" in the visitor park is available for your dining pleasure during your trip to the visitor's park, offering delicious food and a nice beer garden.
You can reach the Munich airport's visitor park from Marienplatz by taking suburban train lines 1 or 8 towards the airport (Flughafen). Get off at the "Besucherpark" station and in just a few minutes you'll be at your destination via a futuristic subway.
For more information about the airport and the visitor centre please click here.

Picture Source: <link www.flickr.com/photos/91782666@N00/4634934545/in/photolist-84zfyz-8ThH5v _blank>probabilistic</link>