Introducing our front office heads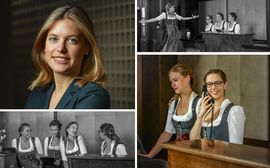 Many thanks for your time. How long have you been working at PLATZL HOTEL and how long have you been occupying your current positions?
Stefanie: I have been working at Platzl Hotel since October 2015 and was able to advance from the position of shift supervisor on Front Desk Management to Front Office Manager.
Julia: I started at PLATZL in August 2016 and have held my current position since September last year.
Stefanie, you lead all shifts at the reception, which is a very big responsibility. Which tasks do you find most challenging?
Stefanie: I am responsible for 15 employees and I strive to lead each one individually, as much as possible. Encouraging my colleagues is a must for me, despite the limited time. We want to develop for the guests and for ourselves and deliver a constantly high level of service. It is incredibly important for me and my team that we offer our guests from all over the world a sense of "Home" – and for the entire duration of their stay at that.
Julia, the reception at the PLATZL HOTEL is open around the clock. Is there a certain timeframe or shift in the day when you love working the most? Why?
Julia: I always find switching between various shifts really good. The early shift presents completely different challenges from the late shift. But there isn't really a favorite shift. I find that you are simply more flexible with personal needs. Whether doctor appointments, visits to the authorities, or simply spending time with friends, it's all easier to organize since you are not tied to a fixed timeframe. During weekends, I also find it relaxing to work, since the office is quiet and you can focus better.
For all young readers, who consider a career in the hotel industry. Which personal qualities should employees bring to the reception?
Stefanie: You need to be communicative, when conversing either with the guests or with your colleagues. Additionally, you need to be interested in diverse cultures, be articulate and socially competent. At the reception, we are mostly vendors but sometimes also spiritual guides.
Julia: In any case, you need to have a knack for organization and be capable of multitasking. And you cannot shy away from working with guests.
Guests like to ask for recommendations. Which places in particular do you like suggesting to guests who wish for a cultural experience in Munich?
Stefanie: My tip for both philistines as well as those interested in culture is the Residenz . The chambers and art collections. from the periods of the Renaissance, Early Baroque and Rococo to those of the Classicism, are evidence of artfulness and political ambition, so a great mixture for all tastes.
Julia: During the summer, I gladly recommend the Nymphenburg Palace. The palace itself is simply wonderful and the surrounding park is enormous, so you can also go for a walk there and enjoy yourself.