GINGER BREAD MOUSSE RECIPE FROM THE PFISTERMÜHLE RESTAURANT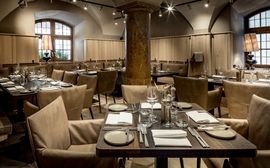 The legend of the "Elisenlebkuchen"

"Elisenlebkuchen", a Nuremberg speciality, is a very popular Christmas treat and at Christmas it is baked in many different shapes and varieties. According to legend, "Elisenlebkuchen" are named after a Nuremberg ginger bread maker's daughter, called Elisabeth. The story says that the ginger bread maker loved his daughter more than anything and cherished her like gold, for fear of losing her. One day, as his daughter was seriously ill and no doctor knew what to do, the father decided, in his need, to create his own medicine. He used valuable oriental spices to make a really special ginger bread without flour for his daughter. Thanks to this special ginger bread, his precious daughter Elisbeth recovered and was restored to health. At Christmas time, we recommend a very special recipe variation of the "Elisenlebkuchen".

Picture source: <link http: www.pixelio.de media _blank>pixelio.de / Ruth Rudolph
The ginger bread mousse
Ginger bread is a true classic during Advent and no festival table should be without it, particularly at Christmas. Conjure up an irresistible Christmas dessert for your loved ones with this light ginger bread mousse. Enjoy the perfect combination of chocolate mousse and spiced ginger bread.
We are pleased to reveal to you the recipe for our ginger bread mousse from the<link http: www.pfistermuehle.de en home.html _blank>Pfistermühle restaurant.
Click <link http: content.online-birds.com clients platzl newsletter gingerbread-recipe.pdf _blank>here, for download the recipe as PDF.
Visit us at the Pfistermühle restaurant and enjoy our Bavarian treats and new interpretations of delicacies. Experience the unique atmosphere of our four rooms and the lovingly restored vaults. We look forward to welcoming you to our restaurant and hope to see you soon!