Daily fresh - the Platzl Bread from the Brotmanufaktur Schmidt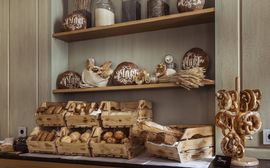 Regionality and quality in the morning
You have probably already noticed in the last magazine articles: we are continually developing our Platzl breakfast buffet, and the focus is on regionality and quality.
With us, you drink tea from the Chiemgau tea factory Bioteaque and Dinzler coffee from Rosenheim. And the Platzl beer jelly made from Ayinger beer has long been a favorite of our guests in the mornings. Now we are making an impression, with perhaps the most important breakfast ingredient: fresh bread from the 'Brotmanufaktur Schmidt' (bread manufactory).
The 'Brotmanufaktur Schmidt'
For five generations the 'Brotmanufaktur Schmidt' has stood for the highest baking quality in Munich. Regional raw materials are processed with handcrafted refinement using a traditional recipe. The flour comes from the white mill in Bruckmühl, the eggs from the free range hens of the farmer Herzog from Schwindegg, and the cold pressed natural honey from a beekeeper in Kleinhöhenrein. The topic of sustainability is always a consideration and so the water for production stems exclusively from an Elisa spring water system. We like this ecological approach, which is why we are happy to have the 'Brotmanufaktur Schmidt' as our primary bread provider.
Our new Platzl bread
The Schmidt 'Brotmanufaktur', delivers eight different types of freshly prepared bread to the hotel every day. Of course the "Farmers breads" with Platzl Hotel logo particularly stands out. Yet the other breads also upgrade our already popular breakfast buffet. With this selection, everyone will find a favorite:
Butter toast, sliced: For those with a sweet tooth in the morning, goes perfectly with honeycomb.
Haidhausen ancient grain: Back to the roots – best with sliced cheese and cold cuts.
Parisienne: Light and airy white stick bread – a popular companion to a hearty meal.
Sexy Alive: Rye sour dough bread with nuts – especially with mountain cheese from the natural cheese dairy of the Tegernsee region.
My corn bread: Is healthy and tastes delicious – our tip: eat with quark and strawberry jam.
Münsterländer: Classic mixed wheat bread – a real all-rounder.
Rye bread in a box: Unbeatable with cream cheese and cress.
Farmers breads: THE Platzl bread with logo – is popular with sweet and hearty breakfasters alike, and is predestined for our Platzl beer jelly.
Come and try our new bread selection.