Christmas Time in the Platzl Hotel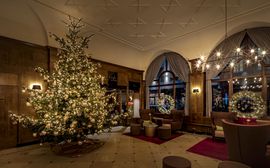 In less than two months the pre-Christmas period will begin once again in Munich. The city centre is beautifully decorated and aglow with Christmas lights, the smell of hot chestnuts fills the air and the Christmas markets open for visitors once again. As it does each and every year, the Advent period also offers many culinary specialities and in the Platzl all the special festive treats are of course back for you to enjoy.
Delicious 'Ayingers Goose' in Winter
We will begin serving our festive goose on St. Martin's day on the 11th of November in Wirtshaus Ayingers. If you are not able to join us on St. Martin's day, you will also have the chance to enjoy our classic Ayingers Pot Roast each Sunday during the Advent period. In accompaniment to our goose, we serve the traditional side dishes of red cabbage with apple and potato dumplings. Price per person: € 21.50.
Culinary Advent in Platzl
We will have Christmas specialities on offer during the Advent period both in Wirtshaus Ayingers as well as in Restaurant Pfistermühle. On the menu in Ayingers you find, among other delicious specialities, our chestnut cream soup, braised venison roast or duck leg – when you order 48 hours in advance we can also serve you Fondue Chinoise for € 23 per person.
The kitchen team in Pfistermühle has created an excellent 4-course Advent menu for you to enjoy: Bavarian Arctic Char, pumpkin soup, venison medallions and Christmas chocolate à la Platzl will take your palate on a delicious culinary journey. Price per person: € 54.
Celebrate your Christmas party with us
You can also enjoy our delicious Advent treats during your Christmas party. Say 'thank you' to your employees and business partners in the cosy atmosphere of our event rooms and get into the mood for a peaceful and relaxing Christmas. Glance at our menu suggestions and select the courses for your celebratory dinner. In the meantime the Platzl event team will put together a fun and exciting programme of activities in order to make your Christmas party a night to remember.