A NEW WIND IS BLOWING THROUGH PLATZL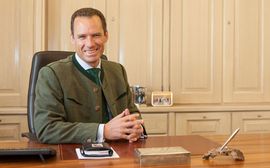 Change in Platzl leadership! Have no fear: the rudder is staying in the family. Peter Inselkammer Senior has now made it official: he will withdraw from Platzl operations and pass the reins to his son Peter Inselkammer Junior. It is clear that this withdrawal does not mean retirement for the senior—he will continue to stay in the background as a 'wise man' of the traditional hotel. However, the pressures of deadlines and the great responsibility are now off his shoulders. He refers to the time saved as 'the greatest achievement, the greatest luxury,' he is able to have. He will now use this luxury for his favourite hobby: he wants to invest time and capital in the research of the most sustainable and cleanest form of renewable energy—deep geothermal energy.
However, you must not worry about the Platzl Hotel, because it will stay in competent hands. Mr Inselkammer Senior has no worries regarding his successor continuing the family tradition of success. Concerns are also completely unnecessary, because the passing of the baton has been planned for a long time. 15 years ago, Peter Inselkammer Junior took over the operations and since then, he has taken on more and more tasks from the father in the administrative, operational and strategic area.
The passion for 'Bavarian hospitality' will be maintained by Junior without a doubt; after all, he grew up in a family where the host mentality was celebrated all this life. What direction is the Platzl headed in under the new leadership? 'Preserving the tradition, but maintaining an openness to modernity', promises Peter Inselkammer Junior.