3 Tips for Summer Hiking around Munich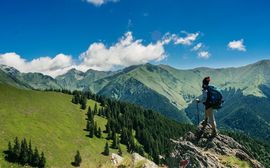 For Beginners: The Ayinger Achter
We can recommend the "Ayinger Achter" to all those who prefer not a full-blown hike, but rather a detailed walk. What stands out above all are the points of interest and sightseeing. After about a 50-minute by train you are in the beautiful countryside in the southern Munich foothills. Past fields and lush green meadows, after about an hour and a half you will reach the remains of a late Gothic church tower and the town of Aying. Here you can stop in the beer garden of the Aying brewery hotel and visit the brewpub with museum.
The way back to the city can be comfortably done with the S-Bahn from Aying and takes about 50 minutes. This is a beautiful hiking tour for families with small children.
For experienced hikers: Grünwald Loop - Baierbrunn Dam - Georgenstein
This moderately difficult hike offers a good mix of challenging trails and idyllic segments. You should definitely wear good shoes, and the walk is much more enjoyable if it has not rained the day before. First, you have to get to Grünwald - you can best do this with the S-Bahn to Rosenheimer Platz and from there continue by Tram 25. Once in Grünwald, the actual hike starts. After less than three kilometers, you reach the first peak - the Baierbrunn power plant. There begins a beautiful but rustic route through the riparian forest, where ancient trees stand and small streams ripple through. After a detour through the Isarauen, we continue over the Grünwald bridge, up to the Grünwald weir. Another highlight comes in the form of the well-known Georgenstein. The lap back to Grünwald finishes over wooded paths and a magnificent view of the Isar and the Isar Valley.
The Challenge: Hechendorf - Seefeld Castle – Andechs Monastery
This diverse hike is only recommended for hikers with good stamina and a healthy physical constitution. Before starting on foot, take the suburban train S8 to Seefeld-Hechendorf. From there you leave the state road behind you and soon continue on a stairway up to Seefeld Castle. The route, a total of about 17 kilometers, then leads you along a babbling brook, past meadows, to Widdersberger Pond. After a little cooling off, it is not far until you see the monastery of Andechs perched on the "Holy Mountain". After another five kilometers uphill you can make a stop and refresh yourself to your heart's content. As a reward for all the effort, there is a view to rave about on top of that!
For the trip home you hike about 40 minutes to the train station "Herrsching" and then in just under an hour you're back at the PLATZL hotel.
Image source: Mike Tanase / pexels.com