This is how the late Summer in Platzl tastes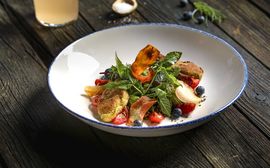 Bavarian Schwammerl weeks
Our chef at the AYINGER AM PLATZL is an enthusiastic mushroom picker and the preparation of the Schwammerl (as we call mushrooms here in Bavaria) is one of his favorite activities in the kitchen. So look forward to our special mushroom menu at the end of August. There are, among others, mushroom soup, chanterelle tartare, and king oyster mushrooms as a side dish to the Bavarian ox entrecôte. The ingredients are all from the Munich region and are processed according to traditional recipes.
From August 19th to 31st
Brunch with "Die Fexer"
Is there anything more Bavarian than Weißwurst for breakfast? Maybe brass music. These two things we will combine in AYINGER IN DER AU on 1 September. But do not worry: It will be anything but worn out and stale: In addition to Weißwurst, there are many other delicacies for a felicitous brunch, and the brass band music is interpreted by a young trio in a refreshingly modern way. "Die Fexer" 'sorgen für Gaudi' (bring the fun) - that's for sure!
On 01.09.2019, from 11:00 a.m. | Free admission
A high (time) in September!
A clay pot baked chicken breast plays the lead role in our exclusive September menu in five acts. Not only does it sound spectacular, it also tastes great - we can reveal that much. Other delightful details of our late summer menu are the caramelized Arctic char in orange butter or the champagne parfait with iced mint foam.
From September 2nd to 20th, from 6:00 p.m. in the RESTAURANT PFISTERMÜHLE
€79.00 per person | Wine pairing €39.00
Barbecue on the PFISTERMÜHLEN terrace
What a waste it would be to have a terrace and not use it for a fine barbecue. Our cooks, who trade the stove in the PFISTERMÜHLEN kitchen on the 14th of September for a beechwood grill on the terrace, agree. For our BBQ event we let the best Simmental beef from Upper Bavaria hang over 7 weeks in the Dry Aged cupboard. In addition to entrecôte, T-bone steak or prime rib, there are fresh fish, delicious vegetable creations and housemade sauces.
On September 14th, from 6:30 p.m.
An autumn harbinger: the pumpkin
Our last recommendation is moving suspiciously towards autumn already, but if it goes like the last few years for us, it is still beautifully summerlike in Munich at the end of September. Add the delicious pumpkin specialties from the kitchen at AYINGER IN DER AU - and the summer finale is perfect. Whether soup, quiche, risotto or Crème Brûlée - the orange-colored fruit is one of the most diverse ingredients in the kitchen.
From September 16thto 30th
Summer drinks in JOSEFA BAR and PLATZL KARREE
Regular cooling is a must with record temperatures this summer! If it also tastes delicious – then all the better! Try the berry summer drinks or sorbets in our JOSEFA BAR or PLATZL KARREE. This is how the balmy nights can sound refreshing.
We look forward to welcoming you to our gastronomic establishments!