THE BMW ADVENTURE PACKAGE AT PLATZL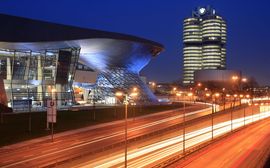 The distinctive BMW Welt, honoured by the Royal Institute of British Architects for the highest architectural quality in 2008, the BMW Museum, with an exhibition area of 5,000 m², and BMW's headquarters in the four-cylinder building, what is an example for one of the most worth seeing of modern architecture in Munich that fascinate about 3 million visitors a year. Together, they are one of the most visited attractions in Bavaria.
With the Platzl Hotel BMW Adventure Package, you can experience the past, present and future of BMW World up close and personal. You will be picked up from the hotel in an exclusive BMW limousine in the latest series and driven to the museum. Once there, you will receive a guided tour, after which you can explore the more than 120 exhibits at BMW World on your own. After exciting and interesting five hours, you will be picked up by your driver and returned to the Platzl Hotel.
You can then unwind from your busy day at BMW World in our "Moorish Kiosk" wellness area with sauna, steam room and fitness area. Spend two relaxing nights in one of our comfortable 4-star Superior rooms and enjoy our rich Bavarian breakfast buffet the morning after.
Fotoquelle: ©EinfachMünchen / B. Roemmelt