Platzl Hotel awarded environmental distinction!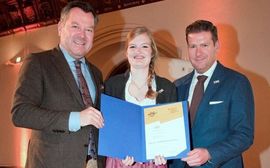 The initiative ÖKOPROFIT, in which – apart from the Platzl – 54 more Munich businesses have participated, proves that protecting the environment also has the welcome side-effect of saving money over the long-term.
1.8 million euros already saved
In total, the 55 Munich ÖKOPROFIT Businesses taking part in 2015/16 saved a respectable 4,500 tons of CO2 , 100 tons of rubbish, 8.5 tons of raw materials and more than 25,000 liters of water. This corresponds to a contribution of a respectable 1.8 million euros. So you see, protecting the environment is doubly worthwhile! Not only does it allow a better future for coming generations, it is also good for the company finances.
The measures in Platzl
As a newcomer business of ÖKOPROFIT, the Platzl began with ten workshops on all subjects of company environmental protection. This increased employee awareness of these themes and included the initiation of environmental projects especially for the Platzl. Some of the measures already implemented are larger investments, such as the modification of the underground carpark and the renovation of our banquet kitchen. On the other hand, small changes can also make a valuable contribution. For example, the standardization of the employee food cost nothing and led to a saving in cost of sales in the value of 5,000 euros.
This was just the beginning
After the successful audit according to the strict ÖKOPROFIT criteria, things will also continue to have an environmentally friendly direction at the Platzl. Further renovation measures for reducing energy consumption and pollution are already planned for the coming year. We will be happy to keep you informed about the further progress of our ÖKOPROFIT project.
Keep up to date with our news either here in Platzl-Magazin or on Facebook.