New Year's customs in Bavaria, Germany and the world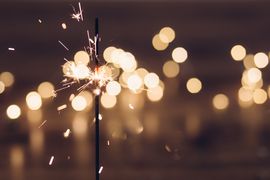 The turn of the year has been a very special date for centuries. Many of the customs, which go back that long, are still upheld today. We went on a little journey through time and cultures, and looked for old traditions and curious customs for you.
Why fireworks?
Who hasn't seen them: On the dot of midnight between the old year and the new one - whether village or city - fireworks are shot into the night sky. But why? This custom came from the belief, that the evil spirits of the old year could be driven out with light and noise. What was done with kettle drums and huge fires back then, is now achieved with fireworks.
The oldest New Year's customs in Bavaria and Germany
Like fireworks, many other New Year's Eve and New Year's customs aim to get rid of old ballast, and entice positive things in the New Year. Like an ancient Christian custom – The 'Rauhnächte' (twelve days of Christmas). These begin shortly before Christmas and continue until Epiphany (6 January). The demons of the old year are driven out into the night with incense.
In some rural regions of Bavaria and Austria, the children go through the village on New Year's Day, and greet the neighbours with an exclamation which changes every year. This custom is also described as "New Year's screaming".
A custom and party fun at the same time, is lead casting on New Year's Eve. This involves pouring lead, tin or now often even candle wax onto a spoon to melt, and dipping it in cold water. The shape that forms from this, should be an indication of the course of the New Year. A tradition which was documented even by the Ancient Romans.
New Year's customs from all over the world
Of course, it is not only here that New Year's customs are followed; there are remarkable traditions all over the world.
In Russia for example, you burn a note with your dearest New Year's wish written on it. The ash is then mixed into a glass of Champagne and drunk.
If you happen to be in Columbia for New Year's Eve, don't be surprised if an unusual amount of people are walking through the streets with their suitcases at midnight. This custom should lead to lots of travel during the following year.
In the Philippines on the other hand, the motto for New Year is: "The rounder the better!" You eat at round tables, give your loved ones coins and the clothing that you wear should be spotted.
We hope we gave you some inspiration for your New Year's Eve party. A little luck for the New Year can't hurt. And if you don't really believe in it: At least many customs are a lot of fun.
Image source: https://static.pexels.com