Pure headache: Munich's hat heroes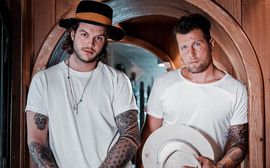 Their creations are as individual as their two stories. We want to learn more and visit Gabriel Schütt and Patrick Köppchen in their hat store "Fatzke" in Munich's Platzlgassen. Curiously welcomed by Gabriel's young dachshund dog Heidi.

Hats were a must, especially for men, until the 1950s - is the traditional headgear back in society today?
Gabriel: Yes totally, hats are absolutely socially acceptable again today. We experience this every day and the requests never cease, especially for hats that are not off-the-peg. The desire for individuality plays a big role in today's society. But the topics of sustainability, locality and craftsmanship have also gained in importance again.
Is it fair to say, "Show me your hat and I'll tell you who you are"?
Patrick: Our customers are actually very diverse. They form a cross-section of society and come from a wide variety of professions. What unites them all is that they appreciate the value of a custom-made hat. Everyone can express their personality in their own hat and so, conversely, you learn a lot about the personality of the wearer through the hat.
How did you come up with the hat?
Gabriel: Patrick and I met in 2014 and became good friends over the years. Patrick was still living in Düsseldorf at the time and playing ice hockey there, I was working in the restaurant business. I always thought hats were really cool. I looked for the perfect hat for me for a long time, but didn't find one. Either I didn't like them, they were too unspectacular or they just didn't fit. At some point I came across a hat maker in Vienna. At a weekend workshop there I was allowed to work on my first own hat. That changed my life. I told Patrick about it and we were both on fire.
Patrick: We each started to work on our own hat-making skills and attended workshops, not only on hats, but also, for example, on how to sew properly. We also traveled a lot and got to know different hat makers and their very own handwriting. Finally, we tried out many things and learned from experience. After about a year and a half, we then opened our hat store together in Munich.
What is special about your hats? How far do you go with current trends in hat design?
Gabriel: We don't orient ourselves primarily to trends. For us, our own creativity plays an important role. With us there are few plain hats, rather extravagant, very special ones. Our hats are 100 percent tailored to the individual customer. We measure not only the circumference of the head, but the entire shape of the head. This is very important so that the hat fits the wearer's head perfectly in the end. Hats off the rack have standard shapes - with us, every hat looks different from the shape of the crown to the inner lining and is a unique piece. Basically, our hats are made of high quality hair felt or straw. In addition to the shape, you can then choose the ribbons, embroidery or even the color of the stitching. There are no limits to the materials. And we also work in small personal pieces of jewelry of the customers.
Just like the Platzl Hotel, you place great value on quality craftsmanship and authenticity, how does that show in your creations?
Patrick: We work exclusively with very high-quality materials. You can see that in the hat from a distance. Even someone who doesn't know anything about hats and has never worn one before can tell the difference between a hat from us made of high-quality hair felt and one off the rack made of conventional cotton felt.
The authenticity often becomes apparent upon closer inspection. With most hats, it's the small, subtle details that make them very special, like the three little strokes on a father's hat that represent his three children.
What do you expect from the presentation of your hats at the Platzl Hotel? Why do we fit so well together?
Patrick: Beyond the local proximity, there are many parallels in the product and in the values. The Platzl Hotel and the associated gastronomy also score with a high-quality product and a certain attention to detail. As with us, it's often the little things that may not be apparent at first glance, but make all the difference when you take a closer look. In the Platzl businesses, materials and design elements are chosen carefully and thoughtfully.
Gabriel: We want our hats to be a topic of conversation at the bar. At best, the guests are so interested that they simply visit us next door and we can inspire them with our craft.
Is Munich's Platzl a real "hat spot" for you? How did you come across the store in the Platzlgassn?
Patrick: Yes definitely, we came across this store by chance while searching and found it perfect right away. The central location is optimal and the location in the Platzlgassen just as special as our store.
The Platzlgassen have above all a special meaning. It is an extraordinary spot on Munich's Platzl with history and a past marked by craftsmanship. We are very proud to practice our craft and carry on a tradition in a place where many craftsmen were located at that time.
How many hats do you produce in your store, how does an order go through your process and how long does it take to make?
Patrick: Depending on the effort per hat, two of us can produce up to eight hats a week. Of course, this varies from time to time. Hat making is a craft with many individual productions and requirements.
Gabriel: Our customers first make an appointment with us, where we discuss all their wishes in detail and take detailed measurements of the head. This takes about an hour. It is also very important for us to find out something about the person themselves. In this way, we can - and I see us as artists in this respect as well - transfer the personalities into the creation. This makes it all the more fun to implement the ideas of the future owners. The hat itself then has two longer drying phases; all told, it takes about three days to complete a hat. With lead time, we can currently hand over the hat to its buyer after about six weeks.
And when will Heidi get her first hat?
Gabriel: At the moment she is still very small, she will get it when she is fully grown ;-)

The store is located in the immediate vicinity of the PLATZL HOTEL in the Platzlgassen.
Am Platzl 2 | 80331 Munich