LAURA'S LEMON STARS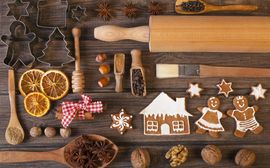 Christmas time is cookie and biscuit time: exclusive recipe tip from our pâtissière Laura
When we think of Christmas, freshly baked biscuits and cookies are what our sense of smell remembers. They taste even better when they're baked in our own home ovens.

That's why we're sharing this exclusive recipe tip from our passionate pâtissière Laura. Born in France, she was trained as a pastry chef at the famous Ferrandi cooking school in Paris. She loves impressing people with her sweet creations and lives out her passion now here in Munich. After working in various restaurants in France and more recently in the Netherlands, we are delighted that she's now bringing her creativity to the dessert table here at the Platzl Hotel in Munich.
To mark the festive season, Laura would like to share her recipe for delicious lemon stars exclusively with you. But fear not: You don't need years of experience as a pastry chef to make these super delicious treats at home!
It's this simple:

1) Mix well in a bowl 125 g butter, 150 g sugar, 1 egg and the zest of 1 lemon.
2) Add 250 g flour and fold until you have a thick batter.
3) Let the batter rest in the refrigerator for about two hours. Then roll it out until it is about 0.5 cm (1 inch) thick. Now use a star-shaped cutter to cut the dough.
4) Place the stars on a baking sheet lined with parchment paper and bake for 12 minutes at 180°C (convection).
5) Meanwhile, put 250 g butter, 250 g icing sugar and 80 ml lemon juice in a bowl, beat to create an icing and fill a piping bag.
6) Let the biscuits/cookies cool after coming out of the oven and divide into two equal groups.
7) Pipe the icing onto half of the stars and then cover with a star from the plain group without icing.
Now all you need is a cup of hot tea, a blanket and a thick tome to have a cosy, relaxing break from it all during this busy time of the year. ☺
Ready, steady, bake..!
Picturesource: <link http: www.pixelio.de media _blank>Cookies1: Verena N. pixelio.de; <link https: www.flickr.com photos realsmiley in photolist-7dpddf-8w8jcl-6xhdge-nopru-nvbd6x-xghbu-92r8nw-7evyv9-7u4kxj-6xhde1-6xhdf1-6xddpd-8yp3sk-5ntf7x-4dj6va-ebaisa-dbh5lz-dbnw8w-bbgbc-5ktdbg-vevel-5kxsaf-6buwle-7od4kl-6bz6yq-7ozbf6-8g5tpn-6buxwv-6nimzu-6jejfb-8ykqc3-8yhnbg-a8dihx-dbnvgm-xc9ht-9anyud-912gp3-8fhzmr-9w2mpw-7ke2f7-b3k5ci-6bux9g-ax4dy-tke3w-tke2s-4gquvm-b4zgjk-ftfyra-rwnxg-8ys2cn _blank>Cookies2: Matthias Rhomberg / flickr.com