How the Platzl team spends Christmas and New Year's Eve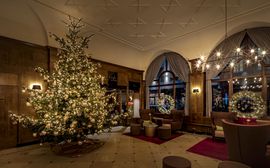 What excites you most about the upcoming Christmas holidays?
"The food – my dad always cooks the most delicious goose."
"I am most excited about decorating the Christmas tree and the house. The incredible amount of sweets on Christmas is also a dream come true."
"The children's faces when a family member dresses up as Santa Claus."
"It is wonderful how grandma invites the entire family to turkey dinner each and every year."
How does your perfect Christmas look like?
"Snow is all I want :)"
"Christmas in a mountain hut with an open fire, fur rugs, cozy socks and tons of snow outside."
"Kind people, a harmonious togetherness, and it snows."
"There is snow, and I mean lots of it! You already took care of everything prior to the 24th so that you are not stressed anymore."
"Lots of time, lots of family time, awesome conversations and games evenings."
How much effort do you put in decorating your home?
"It is within limit. I have got an Advent wreath and calendar at my home. My parents set up a Christmas crib and star."
"Candles, so many candles. An Advent wreath, a large pine cone and of course my plush moose."
"I like it more plain. A Christmas tree and Advent wreath are essential. But the tree is also decorated in a modest, more traditional way."
"The main decoration is our Christmas tree, of course. But we also have a traditional Christmas crib, light chains and a wreath on the door."
When do you buy your presents?
"I like to buy everything during the Christmas time because for me, this is just part of the preparation and anticipation for Christmas."
"Every year, I plan on getting presents as soon as I find something fitting in the course of the year. But it did not really work out this year ;)"
"Usually I am quite early with presents, but this year I saved my days off prior to Christmas for shopping."
What was the best gift you ever received?
"It is hard to say, but I am always happy about a vacation!"
"A plane ticket for visiting my family."
"When I was living in Thailand for year, my parents and my sister came over for Christmas and New Year's Eve. That was really lovely!"
"I really like to attend musicals and am fortunate to have a kind aunt who is regularly supplying me with tickets."
What is your favorite place to celebrate New Year's Eve?
"At work, watching other people party. That is more than enough entertainment!"
"I do not care, I am all about friends and having fun with them!"
"Cooking together with friends and of course clinking glasses at midnight."
What is your favorite New Year's Eve tradition?
"Being the first to be in bed. Unfortunately, this is what it always boils down to."
"We ignite rockets and bangers, toast with a glass of champagne and play one or two board games."
"I find it very important to toast with a glass of sparkling wine exactly at midnight. And even though I am not the superstitious type, I like the pouring of molten lead very much, as well."